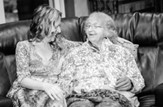 The teachers who inspired the Numerological area of expertise from which the information I'm about to share with you comes from:
My mystically inclined Mom (Grandmother Shirley Donatello-Green) and her mentor, Godmother Jane Barkley, both are now loving, guiding angelic presences.
The "9 Number Archetypes & Pathways of the Soul Teachings" provided the foundation for this forecast, the body of knowledge, and the life mapping system I use with coaching clients and training programs.
Thank you, Mom!!! Thank you, Jane!!!! Thank you mysterious universe!!!!
Numerologically speaking, 2023 Is a Number Archetype "7" year, And Humanity enters the realm of the Scientist & Mystic
In the study of numbers as Archetypes, Number "7" symbolizes our capacity to experience life as a journey of gaining knowledge and meaning. This is done by going deep within ourselves to explore the world around us.
Simply put, Number Archetype "7" invites us onto a path of increasing insight, exploration, and discovery. Discovery of the deeper truth of ourselves and life circumstances in new, and potentially liberating ways. We will be invited, and sometimes challenged to develop our faith muscles. To navigate uncertainty and trust in ourselves and the goodness of a future we cannot see.
In the accepted scientific process of exploring reality, the focus is usually external, and we often discover that some answers we seek cannot be readily found with external observation alone. At such times, we can seek the mystical path of spiritual perception with an inward focus for answers to both individual and universal cosmic questions if we choose to take it.
This year, there will be a universal influence for humankind, and for some of us more than ever before, to uncover unconscious obstructions to truth in ourselves and in our world. Our wounds of separation from the Divine, each other, and all creation will be more fully revealed.
There will continue to be opportunities to be spiritually centered. Especially during times of turbulence in our collective relational field, using our skills of mental clarity and spiritual perspective to navigate. Many will experience divine invitations to awaken to the deeper meaning of human existence. This creates potential for healing and attunement to the deeper truth of our shared humanity and interconnectivity with all if we can respond with new choices.
We have the potential to ignite a movement toward healing and evolution and awaken spiritually, becoming more potent instruments of WISDOM. Or we can become even more mired in disconnection, divided from our true selves and each other.
What will we choose?
Here are some essential capacities fundamental to the scientist and the mystic:
Be observant
Be curious
Ask questions
Listen to what your colleagues & others have discovered
Don't be afraid to go outside of the known, this is where all true discoveries happen
Be brave enough to go inside to discover what you KNOW.
Remain humble in the face of the great mysteries of life
To align with 2023 Collective Year Numerological Influence #7, of which you are an essential part, be curious and explore new realms inside and out. Doing so, opens up new possibilities, discoveries, and innovations for you and through you into our world.
Experience a deeper understanding and activation of the Mystic Scientist in you, through a short, guided meditation called: The Cave of Knowing. Click HERE, settle in, and enjoy!