Today, I took you with me as I bush-wacked my way through a very overgrown path of thick tall grass. Eventually, I made my way to the ocean overlook carrying my little altar cloth. Getting there was not easy, but I was totally committed!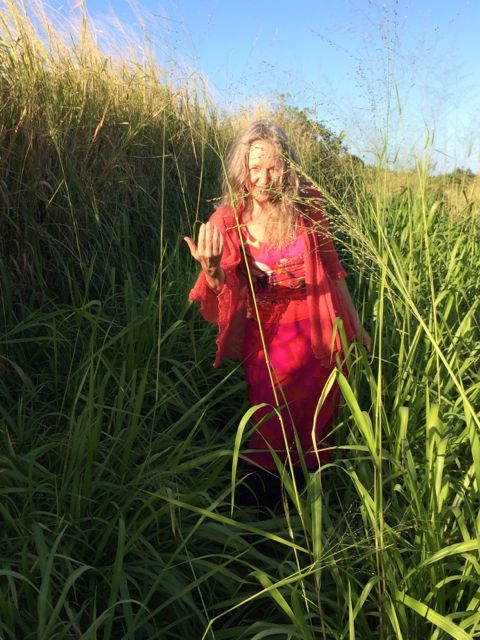 Once I arrived, I began to set up my altar to the collective "impossible dream" on a cliff above the sea.
I put down my altar cloth and gathered what was there: dried sticks, little pine cones from the tree above and tiny flowers that I found in the grass along the way.
Setting up the altar turned out to be more challenging than I expected. For a while it seemed IMPOSSIBLE because the wind kept blowing away the objects I had gathered to create a mandala form on the altar cloth.
As I worked to create a pattern, the wind came swooping through disturbing the pattern and sometimes lifting the objects right off the altar over and over again. I had to recreate the mandala again and again.
I thought of the many times I (and maybe you too) have tried to create something and failed or simply stopped short. For a while it seemed like it would be impossible to keep the little pine cones and flowers from flying away, just as it sometimes feels impossible to stay committed to our dreams in the face of challenges.
However, I did not give up because I was committed!!!! A total commitment is what it takes to get through the challenges that come up on the way to manifesting dreams.
Eventually, the wind settled. I was able to complete the creation of my simple altar form and you better believe I prayed fast before the wind returned!!!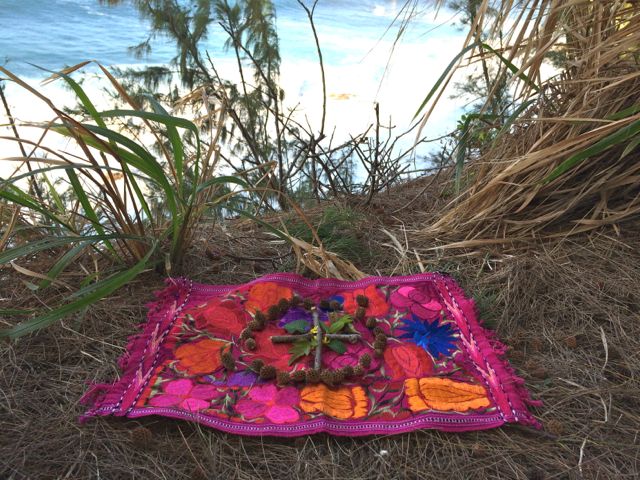 I prayed for help to believe my NEXT big dream…
SOUL STREAM: An On-Line Group Training Program, an idea God put in my heart but I've doubted I can accomplish.
I prayed for YOU and for all beings to experience an opening to the light of possibility in body, mind, heart and soul.
To complete my prayer and the ritual, I released the pinecones and flowers over the cliff, and watched the waves below crash and roll as I listened to the Ocean sing for a little while.
On the walk back, along the now clear path to my car, I thought about the many dreams I have manifested in this life and how, with each manifestation, a new bigger dream emerges.
We just need to keep saying YES to what God puts in our hearts, show up, and do the work. What comes next is always a bigger vision.
On the drive back to my Maui home, I witnessed the most incredible vision in the sunset sky. Through the dark clouds was a crack where the light was pouring through. I just had to pull over to take a picture.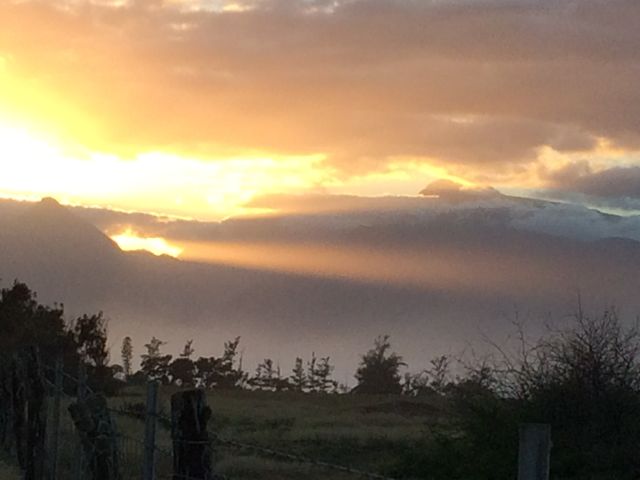 Your LIFE has a BIG plan, but you have got to be honest about what you really want and make a commitment to live it.
You have got to be willing to see and feel where you are trapped in limitation and build an altar there. What I mean by this is to call in the Light of your Soul and get whatever help you need to break through that limited perspective or the fears that cause you to make excuses not to try.
Begin making decisions that move you towards your dream one step at a time.
Allow your life to expand and blossom!!!