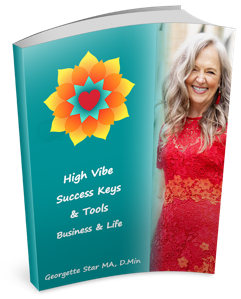 Thank you for choosing the High Vibe Success Keys & Tool eBook!
Keep an eye on your inbox to confirm your email address, and receive your free ebook download link.
I look forward to sharing your path to Higher Self Alignment in your coaching business and practice.
Georgette Star MA, D.Min
Join our private Facebook group
The "Transformational Leadership Café" is a gathering place where Awakening Practitioners, Coaches, & Healers connect to share support, wisdom, tips and tools to nurture and inspire our ability to use our gifts and talents to transform lives.
This group is for you if you:
Are devoted to increasing your Client Breakthrough skills and capacities
Are committed to celebrating what's working, what's right, the awe, mystery, and wonder that we see in each other and those we serve
Are learning to be guided by HIGHER SELF, as leader and creator of your life, and are committed to continual personal and professional development
Passionate about living your "Life Purpose Mission" to contribute to humanity in your own unique way
Deeply committed to becoming a masterful catalyst for transformation in your area of expertise and empower others in your personal or work life to get amazing results
Interested in "spiritual awakening" and the exploration of "mystical principles" to strengthen your transformational leadership skills and capacities
To become a member, join HERE.