What if this is the course that changes
everything for you?
Are you a woman who wants to understand the deeper meaning of life and the evolutionary journey of the soul?
Do you desire greater clarity found in your unique SOUL CODE?
Do you want to be more grounded and confident in who you are and what you bring to this world?
Is there more you are meant to express, create, and contribute?
Is it time to move through whatever is holding you back and know you can't do this alone?
Are you ready to LIVE your purpose, LOVE yourself and your life even more?
If you answered YES to any of these questions, this course was created to help you find the answers.
12 Extraordinary Women will be invited to participate!
Are you a woman who desires a breakthrough into the deeper truth of who you are and why you are here?

MASTER YOUR SOUL CODE will create the space for you to live and love the life you were meant for. You're the only one who can master your life, but none of us are meant to do this alone. Together, we will: discover your inner map, set a "personal intention" for this course, create deep connections within this community, and complete the course with the empowerment to move forward with inspired purpose.


Learn about The 9 Pathways of the Soul: Humanity's Collective Soul-Map. Discover your unique Life Mastery Keys  for each of the 9 Pathways of the Soul and how to apply these universal principles and archetypes in the service of conscious life creation. Together we will....
Explore your unique Soul Code
Select a conscious life creation Personal Intention Project (PIP) based on knowledge gained during a private Soul Code Consultation with Georgette Star
Deepen your soul-connection and self-care through daily practices with group support and accountability
Receive tools and assistance for "Clearing the Path" when challenges arise on the way to manifesting your Personal Intention Project
Explore how to apply your new Soul Code information to increase harmonious communication and relationships with family and friends and community
Experience the power of being seen and heard in the amplified field of group intention and support
Contribute to others freely and fully knowing that your energy, presence and perspective makes a difference
Be part of a successful, loving, strong, connected, committed group of women that help you stay focused and on track, especially when inner or outer challenges arise
Have a group and new tools to help when you hit a snag, setback or delay
Enjoy the comfort and grounding that comes from knowing you have a place to go for support and assistance as well as to share learning, breakthroughs, and celebrations
Nurture a consistent inner practice that supports the development of your intuition and additional self-care practices to energize your ability to take inspired actions towards your goals
Begins October 18th 2016 and ends February 21st, 2017
Tuesdays 9 (PST) - noon (EST) To check time zones, click here
There will 13 live course sessions over approximately 18 weeks, via ZOOM, a video conference call meeting platform
As a participant of this course you will receive:
A program and community that provides structure, accountability, and an energetic field of group momentum to go deep and remained focused during our EXPERIENTIAL learning journey together.
A private "Soul Code Clarity" in-depth reading of your Soul Map by Georgette Star, to be recorded for your future reference and conducted prior to course meeting start up.
Access to all class video recordings
Access to our private online community site, which includes an accountability feature. Participants will agree to check-in with each other at least 4 days a week on the "Daily Miracle" page on the community site.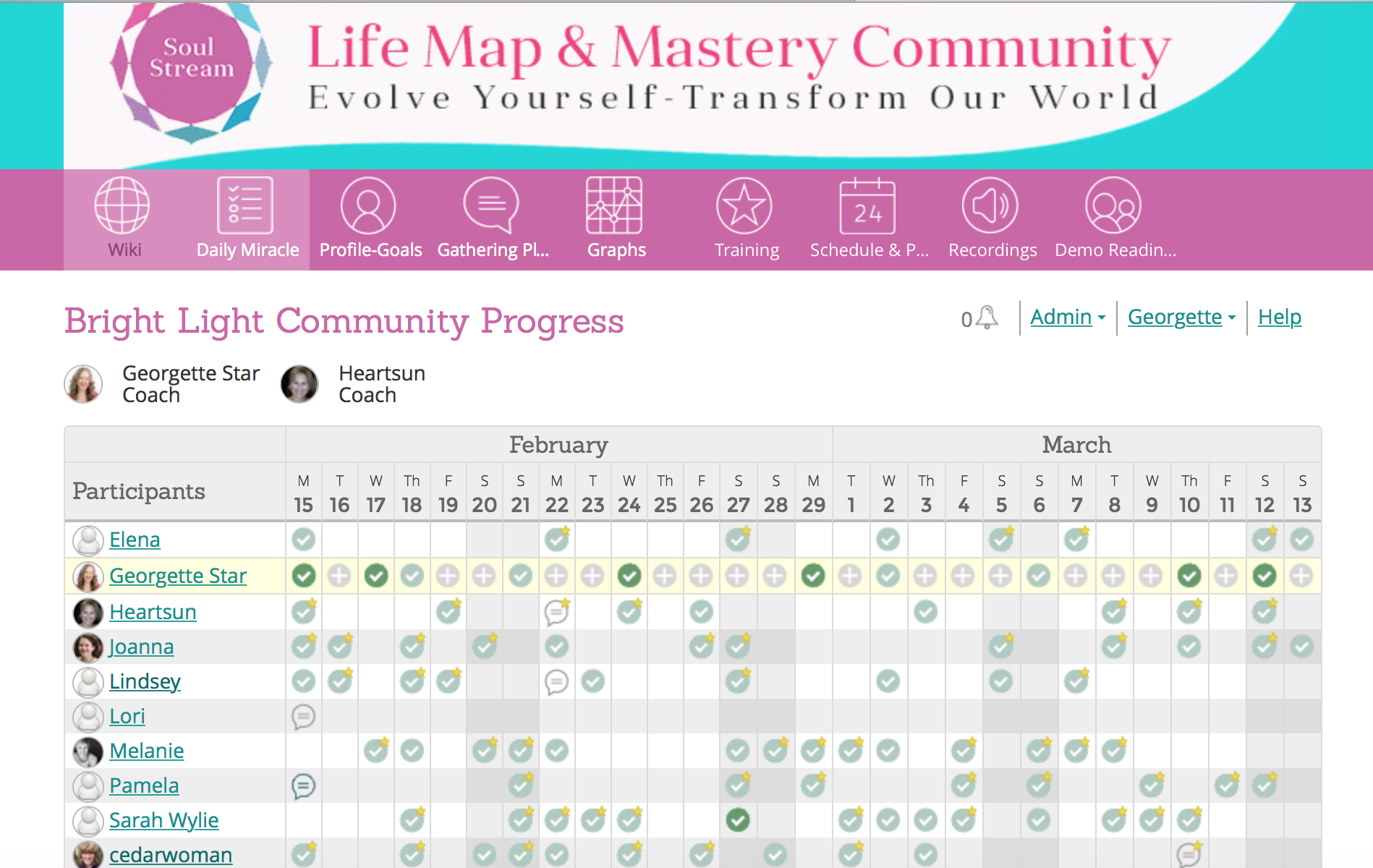 LIGHT UP YOUR SOUL CONNECTION  Set your Personal Intention in motion.
Determine your inner guidance and self-care practice plans.
LIGHT UP THE 9 PATHWAYS OF THE SOUL & YOUR LIFE MASTERY KEYS   Learn about Humanity's Collective Soul Map: The 9 Pathways of the Soul. Discover your unique mastery keys for each of the 9 areas of your life. Activate, integrate and apply these universal principles and archetypes in service of your soul's growth and evolution.
LIGHT UP YOUR SOUL MAP Discover your unique soul map for the journey. We will explore how knowledge of the "9 PATHWAYS OF THE SOUL applies to your unique Soul Map. Your Soul Map includes:
LIGHT UP YOUR LIFE PURPOSE Gain trust in your Life Purpose Mission. Get clear about your North Star destination.
LIGHT UP YOUR GIFTS Discover how to more fully own your gifts and talents. Increase confidence and infusion of creative energy and free self-expression.
LIGHT UP YOUR LEARNING PATHWAYS Understand and embrace your learning challenges. Identify missing skill development. Learn, practice, and gain support.
LIGHT UP YOUR CYCLES Explore the three cycles you are in right now: environment, challenge, opportunity, so that you can align with the influences and resources consciously.
LIGHT UP YOUR RELATIONSHIPS Explore how to apply the 9 Pathway Master Keys and SOUL CODE Information to increase understanding and harmonious communication in relationships with others. Increase compassion, tolerance, and patience with the differences.
MASTER YOUR SOUL CODE is for you if you…
Are a woman on a path of awakening… creative and passionate with a strong desire to create your life motivated by what your soul loves most
Have a sense of Life Purpose and dedication to living it more consciously
Know there is something you desire to transform in yourself or create in your life and are ready to say "Yes" to more support for manifesting
Desire a deeper, more consistent connection with intuitive inner guidance
Know you would love to participate in a sisterhood community of focused support and mentorship
Are willing and able to invest time, energy and resources in self-development because you know that life transformation happens from the inside out
I want to share with you a story about…

The Little Girl Who Created A Universe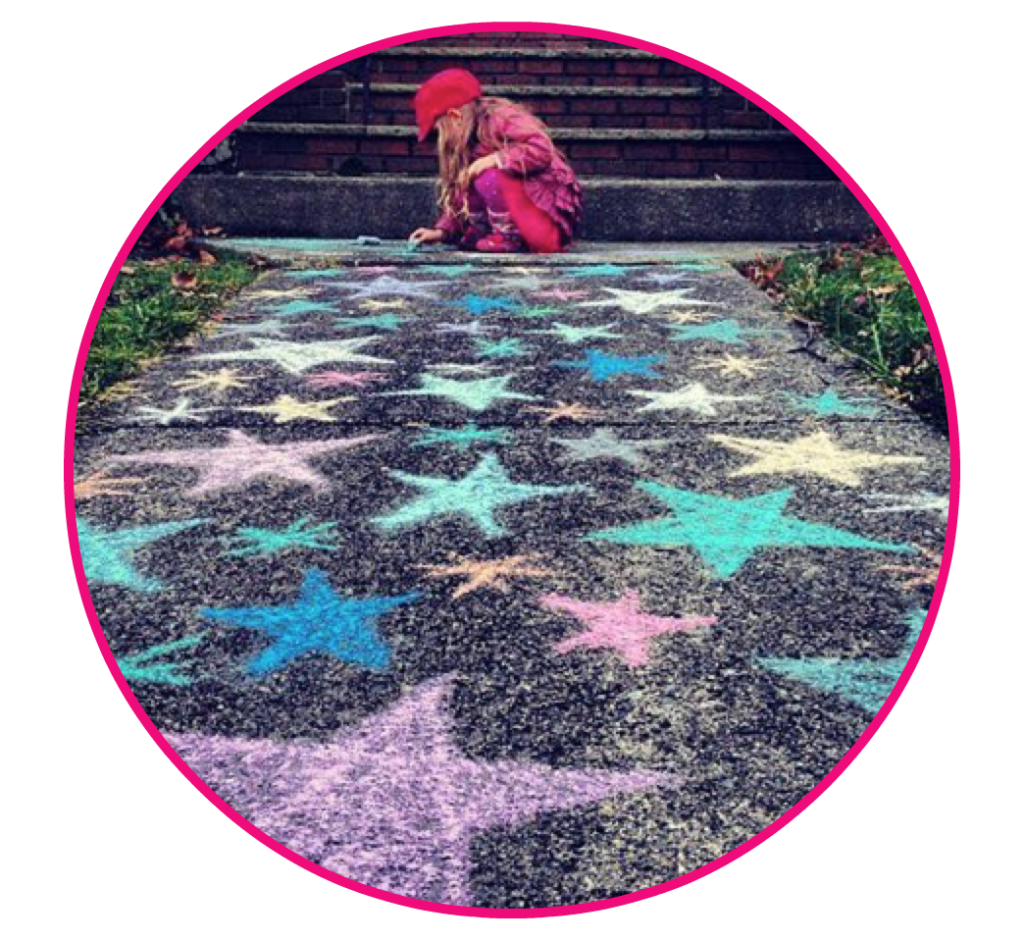 The little girl, about 8 or 9 years old, sat in the summer sun, content and happy to be playing outside her family home.
Calmly, quietly, with deliberate strokes she began to draw. The entire Universe unfolded itself at her feet, captured beautifully in multi colored chalk. The stars shimmered, planets shone in borrowed light, moons, Dwarf Suns, Giant Suns…they were all there for the little girl as she brought them to life in front of her eyes. In what seemed like no time at all, but was in reality about an hour, she created her masterpiece and sat back to admire her work.
She was SO HAPPY! And PROUD! And EXCITED she had made something so WONDERFUL! She sat there basking in the wonder of her own accomplishment, feeling like she herself was at the very center of and connected intimately with the Universe she had created. She felt POWERFUL!
One of the neighborhood boys who commonly cut through her backyard to points unknown stopped to checkout her masterpiece.
He didn't speak to the girl, really didn't pay much attention to her, in fact pretty much ignored her as if she weren't there. Instead, he waited until a couple of his buddies came running up and he pointed to the Universe the little girl had chalk- painted, and unbelievably, to her, he took credit for it. "Look at what I did" he said.
With one thoughtless, selfish act, the young boy unwittingly crushed a fragile flower just starting to bloom, and changed her life.
I was that little girl, that fragile flower, just starting to know my own empowered self. It was an exquisitely poignant moment that informed my life choices from then on.
My commitment is to take a stand for the truth of who I am, to express my gifts, and to trust my creative ability, no matter. It's my life's work helping others to do the same!
Guiding others into the knowledge and essence energy of their "Soul Codes": the truth, beauty and power of who they truly are… is the fulfillment of my Life Purpose!
I learned about the 9 Pathways of the Soul and Soul Codes from my Mom, Shirley, and her teacher, God Mother Jane. Throughout my childhood, I listened to those two sitting in the kitchen discuss the Soul Maps of family and friends. In the fullness of time my Mom became my teacher.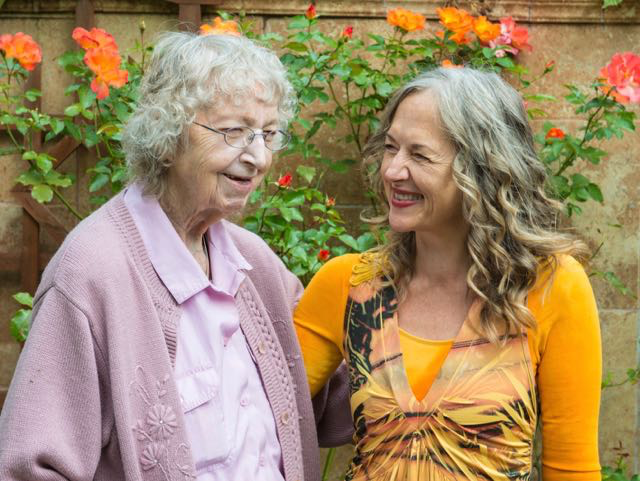 For the past 20 years, the 9 Pathways of the Soul Principles and Soul Stream Numbers Mapping System have been the foundation for work my as a Coach and Mentor for individuals, youth and adults, groups and organizations.
In April of 2016, my Mom made her transition from this world into her next adventure. It fills my heart with immense joy to pass on the GIFT of wisdom she gave me to extraordinary women on the path of awakening.
WHAT PEOPLE SAY ABOUT GEORGETTE AND HER WORK…
Georgette Star is the real deal. My wife Inga and I both had Soul Readings with her, and the information that we received was both illuminating and affirming of our essential beings. It facilitated an even greater awareness of each our unique essential natures, our differences, and a greater respect for and acceptance of each other. Georgette is a compassionate, caring and highly conscious spiritual coach. I am glad to recommend her and her work to anyone.

Jack Canfield,

Featured Teacher in "The Secret" and Coauthor of the Chicken Soup for the Soul series and The Success Principles
Georgette is a blessing. Walking through my Soul Map with her, she revealed things about me that I didn't before have words to express. I know my life and where I am going in it, but she gave me clarity in my sense of purpose and a way to explain it to anyone who asked. Before I met with her, I had a hazy feeling about what was next for me, but every day since our meeting, I've reflected on the words she gave me and started picking up on my connecting to myself and everything around me. I can't tell you what it means to me to be able to do this. I enjoyed it so much that I've introduced her to others and am even learning her craft.

Melanie Spring,

Sisarina: start living your brand. Chief Inspiration Officer
Having Georgette Star's 'Soul Map Reading' was a beautiful experience. Not only was she able to describe me in a way that only few people know me, she guided me toward remembering what my soul really needs for its full expansion. I highly recommend this work!

Crystal Andrus Morissette,

Crystal Andrus Morissette, Simply Woman Magazine